Do you feel HELPLESS seeing your loved one suffer with OCD?
Knowing how to support can feel hopeless.
You struggle to understand their experience.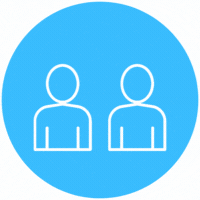 You don't know the right thing to say when they ask you the same question over and over again.
You give into their compulsion because you don't have another option.
This program is the real deal.
Most people have learned to give reassurance to those who are suffering. This doesn't work for OCD. We have to take a more proactive approach. Meaning, we're going to respond differently than we may be used to, which promotes healing and understanding. This program works because:
It teaches the correct way to respond to OCD.
Treatment skills can be used with your loved one.
The videos are easy to understand.
Collaborate with your loved one using the provided worksheets.
Everything can be rewatched as many times as you'd like.
Join now
Treatment is a lot easier than you think.
By simply following the right strategy and step by step by guidance, you can feel confident in knowing how to help your loved one with OCD.
12 engaging videos
Each video is jam packed with treatment information to help you understand your loved one with OCD. Each video is 3 to 8 minutes in length. They are engaging and give you exactly what you need.
Step-by-step formula
The course is tailored to give you instructions on how to build confidence in supporting your loved one with OCD. It is the same treatment I teach those I see in my office everyday.
Worksheets
To keep yourself engaged, you'll be using a series of worksheets that help track your loved one's symptoms, the lies OCD brings, and help them understand what to do about it.
Evidence based treatment
I only talk about evidence-based treatments including exposure and response prevention. This is the gold standard treatment for OCD.
Written instruction
It's important for you to understand OCD and its functions. Each video includes written instruction for more precise learning.
Supportive community
Join the community of others navigating through their own struggles attempting to help someone with OCD. Ask questions and give and receive support!
HOW IT WORKS
This is where the magic happens.
Module 1: The Videos
What you need to know about your loved one
Understanding the OCD cycle
Why do they have OCD?
Will their OCD go away?
Does their topic or fear matter?
Getting the right treatment
Should they try a medication?
How to stop accommodating and reassuring
Lies OCD will tell them
What if they don't want to do treatment?
Teach uncertainty in all things
Ending words for success
Module 2: The Worksheets
Track OCD Symptoms
Track OCD Symptoms Examples
The OCD Cycle
Reassurance Tracker
OCD Lies Tracker
MEET YOUR INSTRUCTOR
Nathan Peterson
Nathan is a licensed OCD specialist who has helped hundreds recover from OCD and anxiety through his own private practice and online.

He has devoted his career to spreading OCD awareness through his YouTube channel with millions of views.

He knows what works and what doesn't work when it comes to treating OCD and wants the best for those who suffer.

He is considered a kind and compassionate individual who spreads joy to those he works with, bringing humor and making those around him feel less alone.
"The worksheets for me have been the biggest help. My spouse and I have been able to do them together. I've learned more in this course than the therapist we currently see. I'm grateful for this resource and recommend it to anyone wanting to learn more about what to do in this tough diagnosis."
- Jamie S.
"When my child first got diagnosed with OCD I had no idea what to do. After this course, I now have tools, direction, and confidence. Highly recommended!"
- Stacy G.
"Seeing your child suffer is so incredibly hard. I searched high and low on how to help. This program is a godsend! Seriously! I've been using my new skills with my child. It's been hard, but worth it, it has helped me create solid boundaries. "
- Howard B.
Imagine what it will feel like as you:
Feel more confident in helping your loved one
Live life without tiptoeing around OCD
Respond to any OCD trigger the right way
Understand fully what your loved one is experiencing
What is it worth to you, to feel more in control?
The course was so easy to understand. I learned more through this than seeing a therapist for the past few months.
Lindsey T.
I used the reassurance tracker with my child and was amazed at all the things we missed. I'm glad we now know what to do with the OCD triggers.
Sarah M.
I felt lost when my spouse was suffering from OCD. This course is exactly what I needed to know how to help her.
Garth H.
Immediate access.
Freedom to access it anywhere.
Multiple therapy sessions worth of information.
12 engaging self-paced videos.
Worksheets to guide you through understanding your loved one.
Still have questions?
No problem. Check out the most frequently asked ones below.
Will this help my loved one with OCD?
What if I have a question while in the course?
Wait! Do I have to pay every month?
Do you actually know what you're doing?